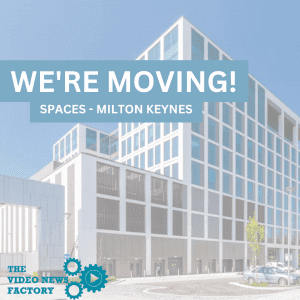 TVNF'S NEW MOVE TO THE HEART OF MILTON KEYNES BUSINESS DISTRICT!
The Video News Factory, already established as a leading Milton Keynes video production and marketing agency is about to make a major move from its Kiln Farm studios, to a prestigious new location in the heart of Milton Keynes' business district.
Managing Director, JP Allard says:
"Moving from our home of the last 7 years at Kiln Farm carries mixed emotions, it's been our home for the last 7 years. But moving to a central location will greatly improve how we can best serve Milton Keynes. Being able to provide a perfect environment placing us on a level footing with the best London agencies, and with a flexible lease that allows us to scale up operations."
TVNF bounced back from the lockdown with new clients ranging from production for local organisations like Walton High to international clients like HCLTech and a major Dubai-based eLearning company.
TVNF projects range from 2D and 3D animation, TV adverts, corporate news, live-streaming events, podcasts, PR, social media promotions, training, customer service, and investor pitches.
In addition, TVNF has established a reputation for helping businesses create unique content for marketing and additional sources of revenue.

Any new Milton Keynes clients booking a meeting at our new location during the next 3 months can take advantage of a free 30-day trial of our tried-and-tested video-based LinkedIn business lead generation plus a complimentary free audit to assess the best ways to increase video and digital sales and marketing opportunities or generate new income streams.

Join us for a coffee and chat as well as register for future free events by booking a meeting here: